Setup L2TP VPN on Ubiquiti USG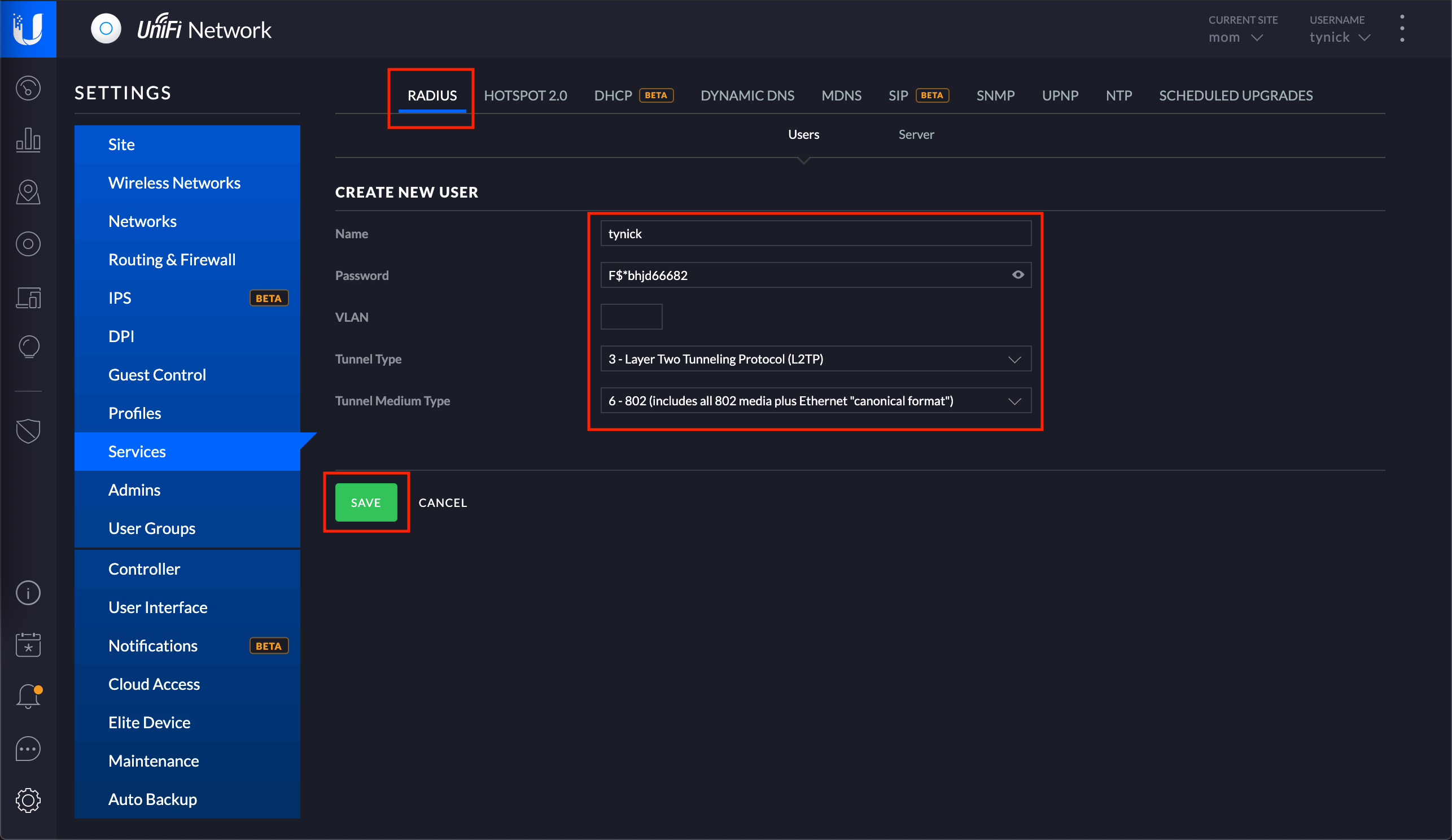 This post contains affiliate links, which means I earn money from purchases. This never affects the price that you pay but helps with costs to keep the site up and running.
---
How To Setup an L2TP VPN on Ubiquiti USG
This post will cover the basics of configuring an L2TP VPN on any type of USG. Here is a tutorial on how to connect.
Here is another post I made on configuring a site to site VPN between 2 USGs if you are interested.
Parts Used For Project
| Part | Comment | Link |
| --- | --- | --- |
| USG | Any USG will do. I personally use the USG-PRO-4. It's a great router for your home if you dont already have one. I assume you already do if you are here. | Unifi Security Gateway |
---
Creating A RADIUS User
Lets start by creating a new RADIUS user so that we can authenticate with the USG.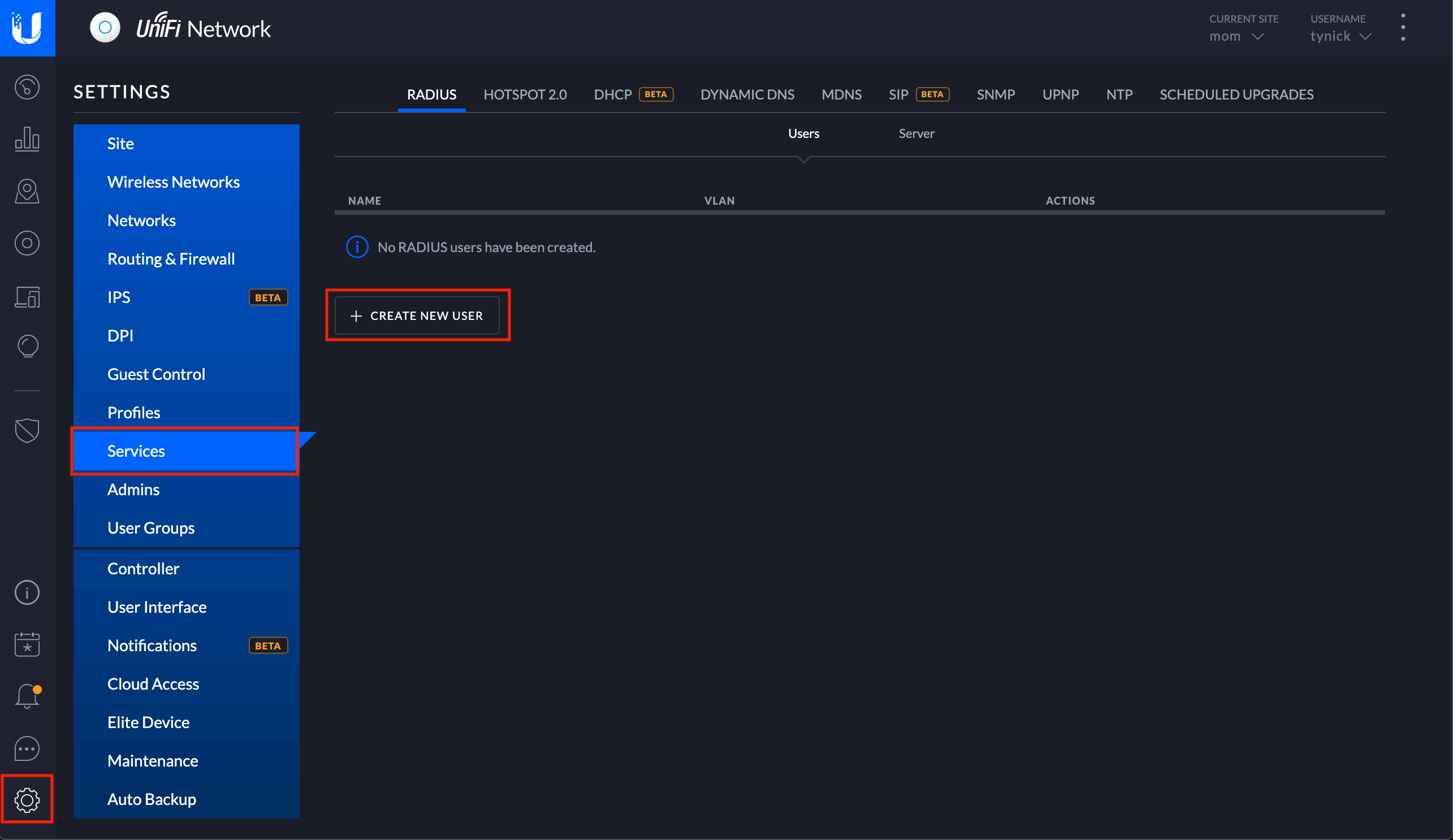 Start by going to Settings > Services > CREATE NEW USER.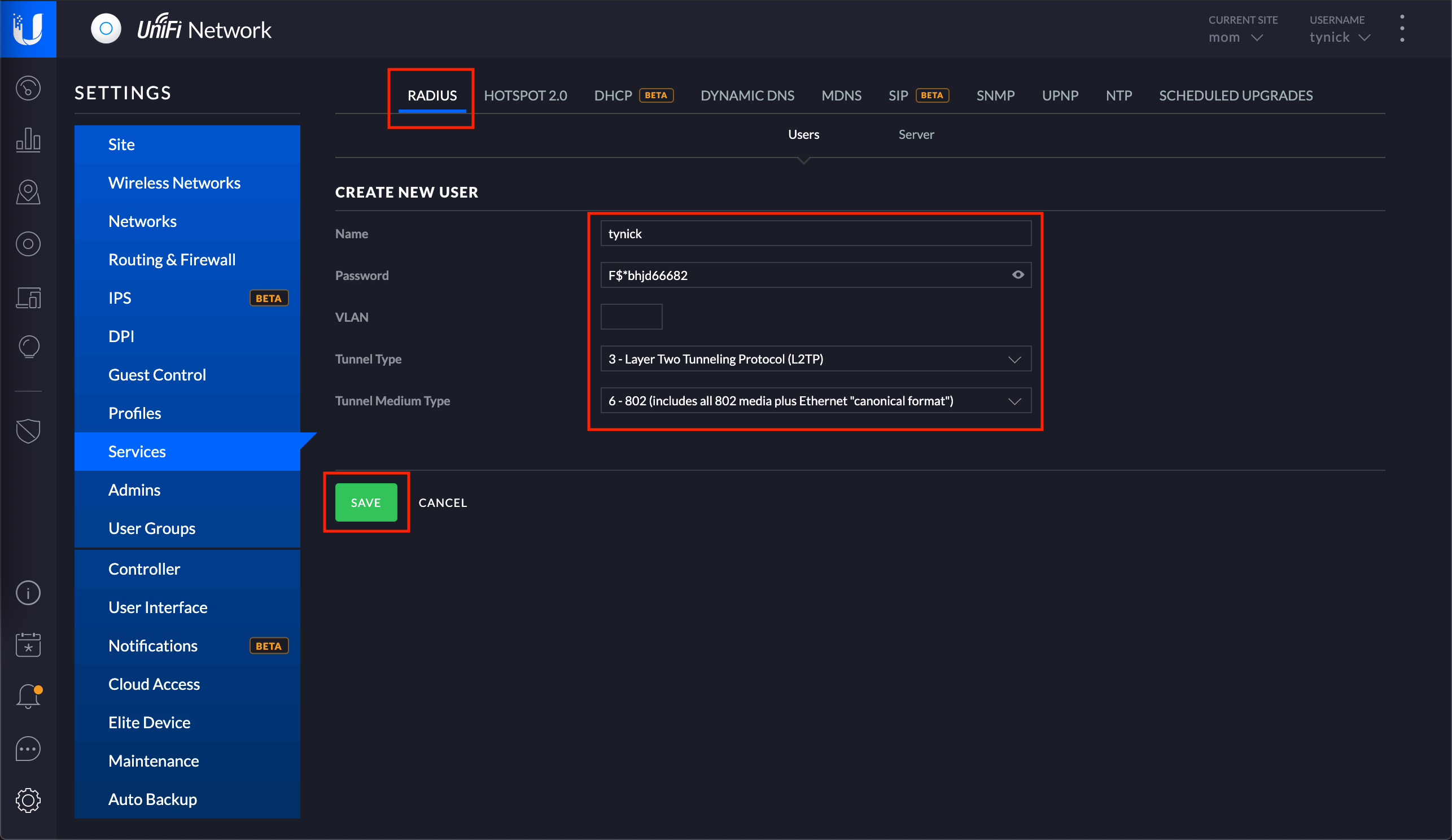 Below is a table with the information I entered on this screen. Obviously choose your own Name and Password. I recommend using a strong password for this. It's basically a key to your network.
I don't care if you see this password. I deleted this user before I made this post live.
If you have a VLAN you'd like to use, go ahead and enter it here.
| | |
| --- | --- |
| Name | tynick |
| Password | F$*bhjd66682 |
| VLAN | |
| Tunnel Type | 3 - Layer Two Tunneling Protocol (L2TP) |
| Tunnel Medium Type | 6 - 802(includes all 802 media plus Ethernet "canonical format") |
Press SAVE when finished.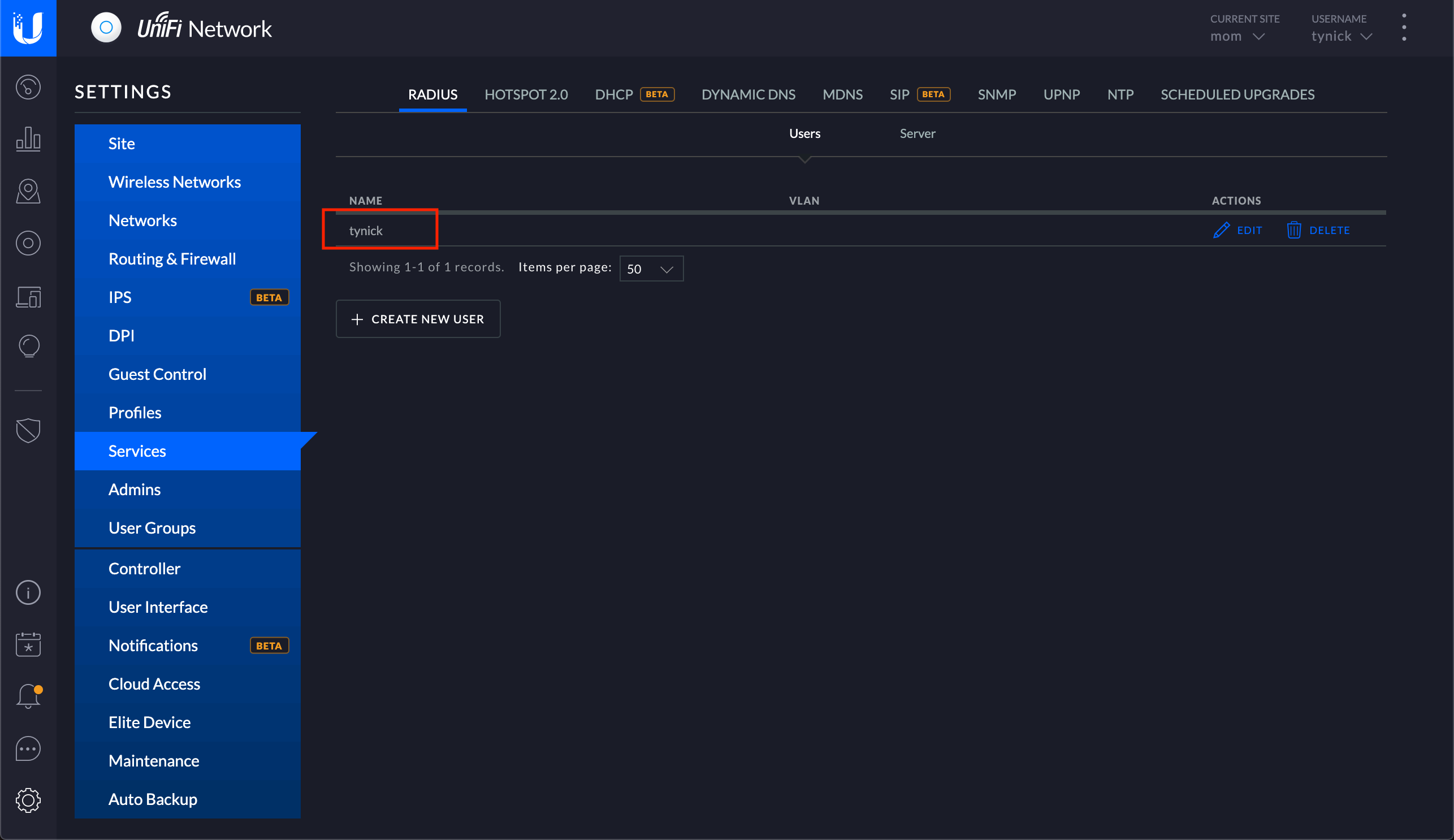 You should now see your newly created user.
---
---
Configuring And Enabling RADIUS server
Now we need to configure the RADIUS server.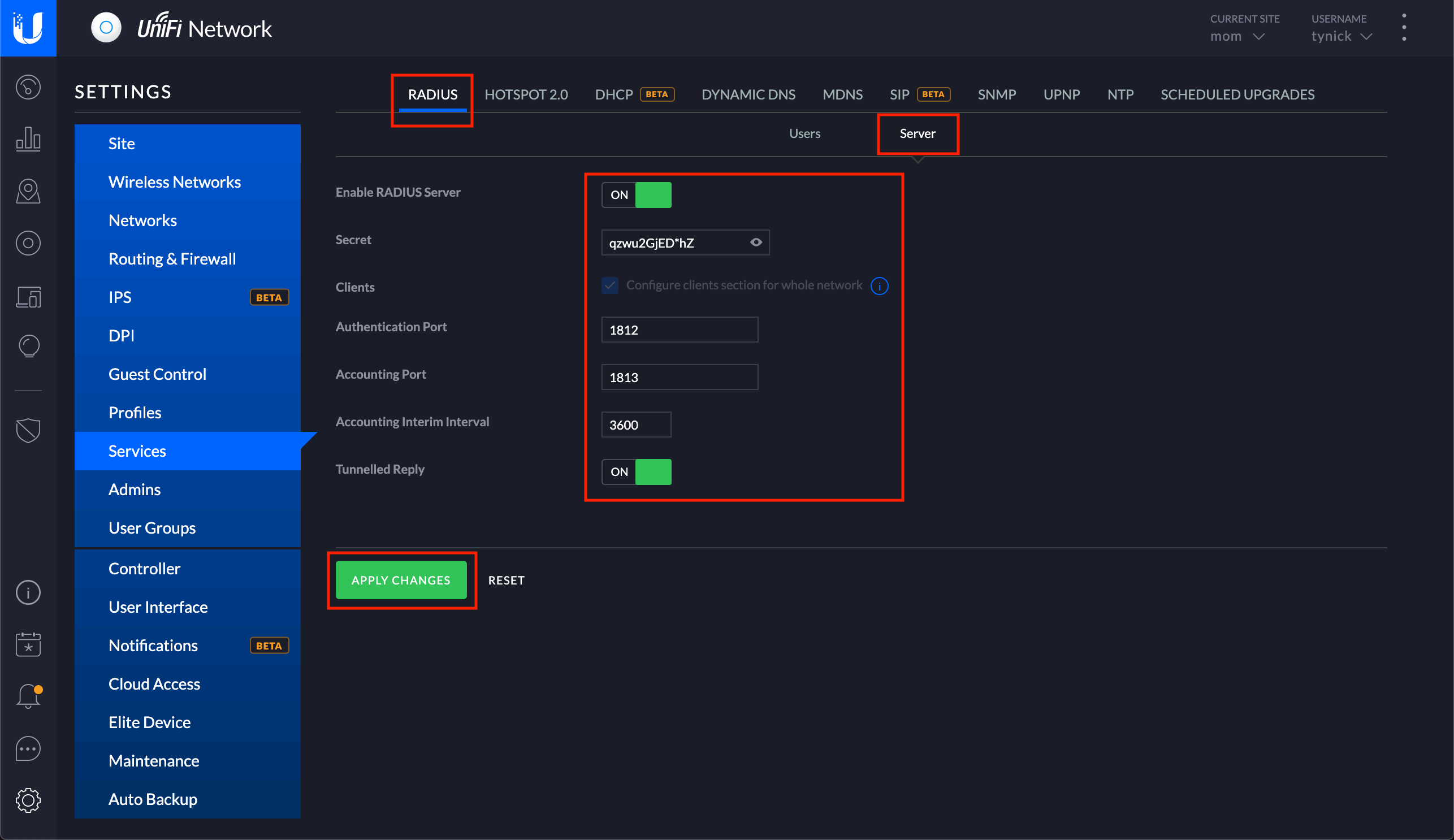 From the screen we ended on in the last section, select the Server sub-heading and then switch Enable RADIUS Server to ON.
You will need another password/secret here. It should be different than the one you used for the user. Don't be lazy and make them the same. This Secret *will not be used when connecting to the VPN.
Enter the information as follows.
| | |
| --- | --- |
| Enable RADIUS Server | ON |
| Secret | qzwu2GjED*hZ |
| Clients | This is checked and grayed out for me. Just ignore this. |
| Authentication Port | 1812 |
| Accounting Port | 1813 |
| Accounting Interim Interval | 3600 |
| Tunnelled Reply | ON |
Click APPLY CHANGES when complete.
---
Creating A New Network
We will now create a new network for out VPN.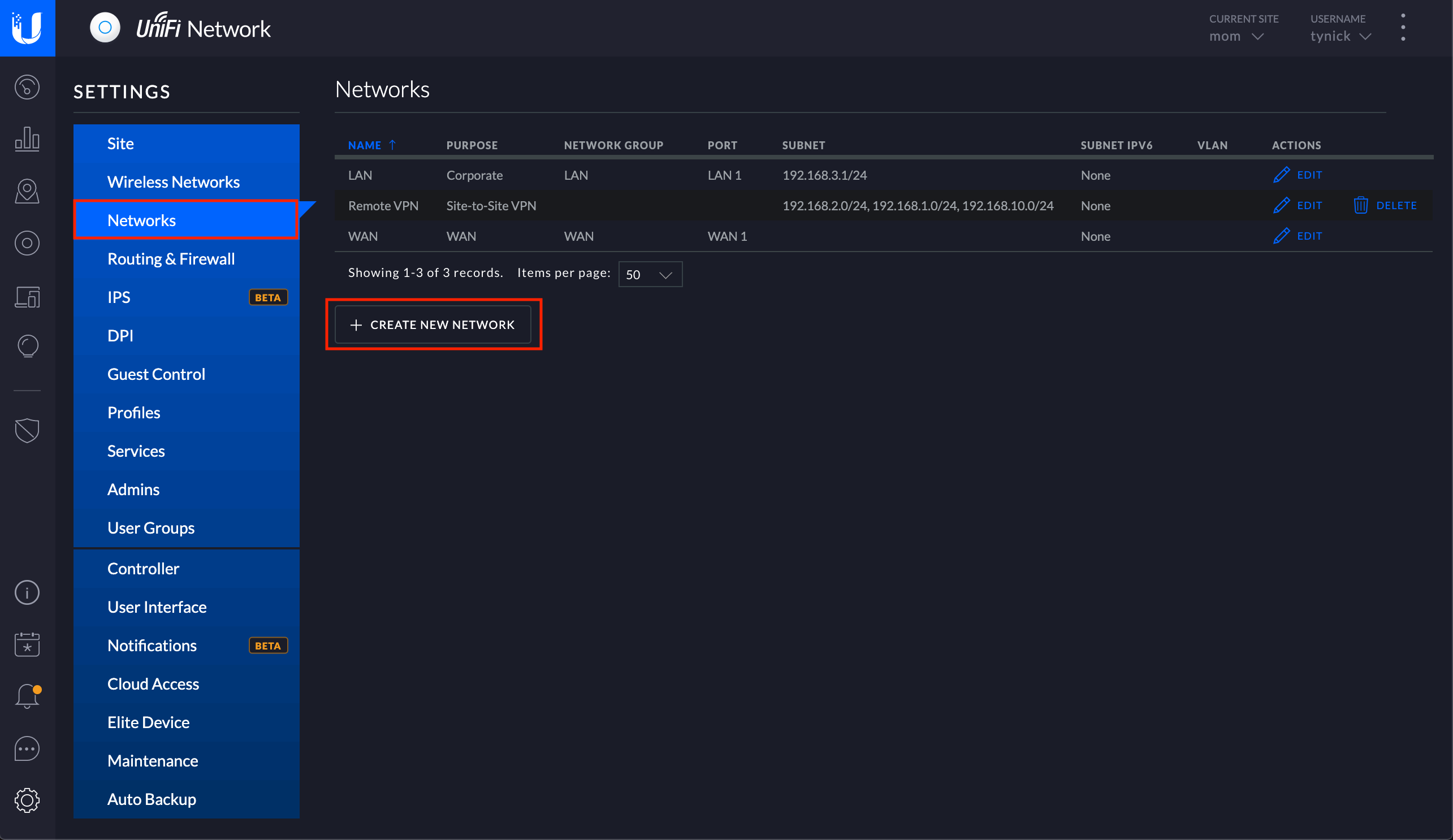 Select Networks from the sidebar menu and then press CREATE NEW NETWORK.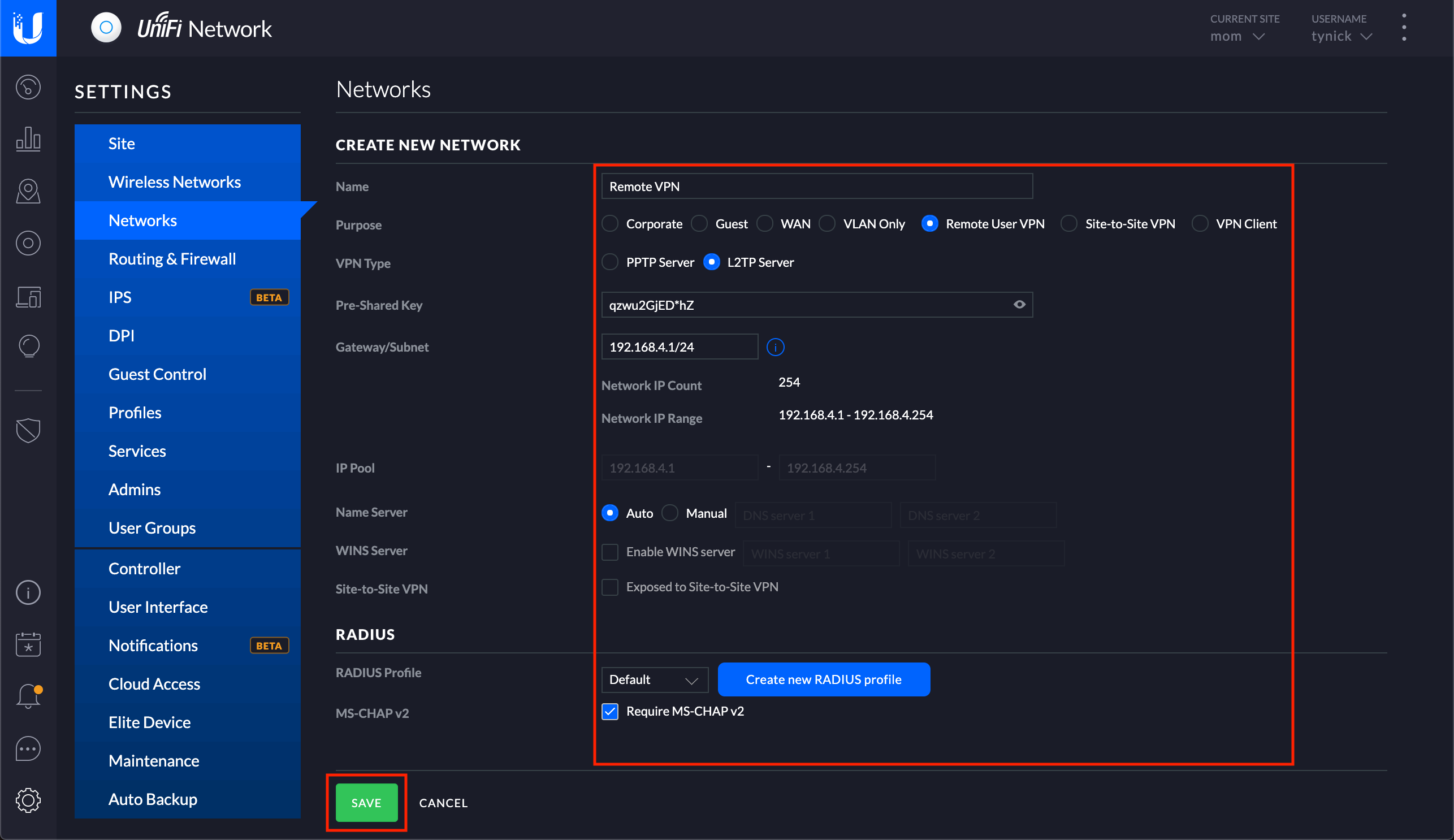 The Pre-Shared Key should also be unique.
The Gateway/Subnet you enter here cannot exist already!
| | |
| --- | --- |
| Name | Remote VPN |
| Purpose | Remote User VPN |
| VPN Type | L2TP Server |
| Pre-Shared Key | P7HV@e78B&eT |
| Gateway/Subnet | 192.168.4.1/24 |
| Name Server | Auto |
| WINS Server | Unchecked |
| Site-to-Site VPN | If you have a site to site VPN configured and want to expose that network to the remote VPN then go ahead and check this. If not, leave it unchecked. |
| RADIUS Profile | Default |
| MS-CHAP v2 | Require MS-CHAP v2 |
Click SAVE when finished.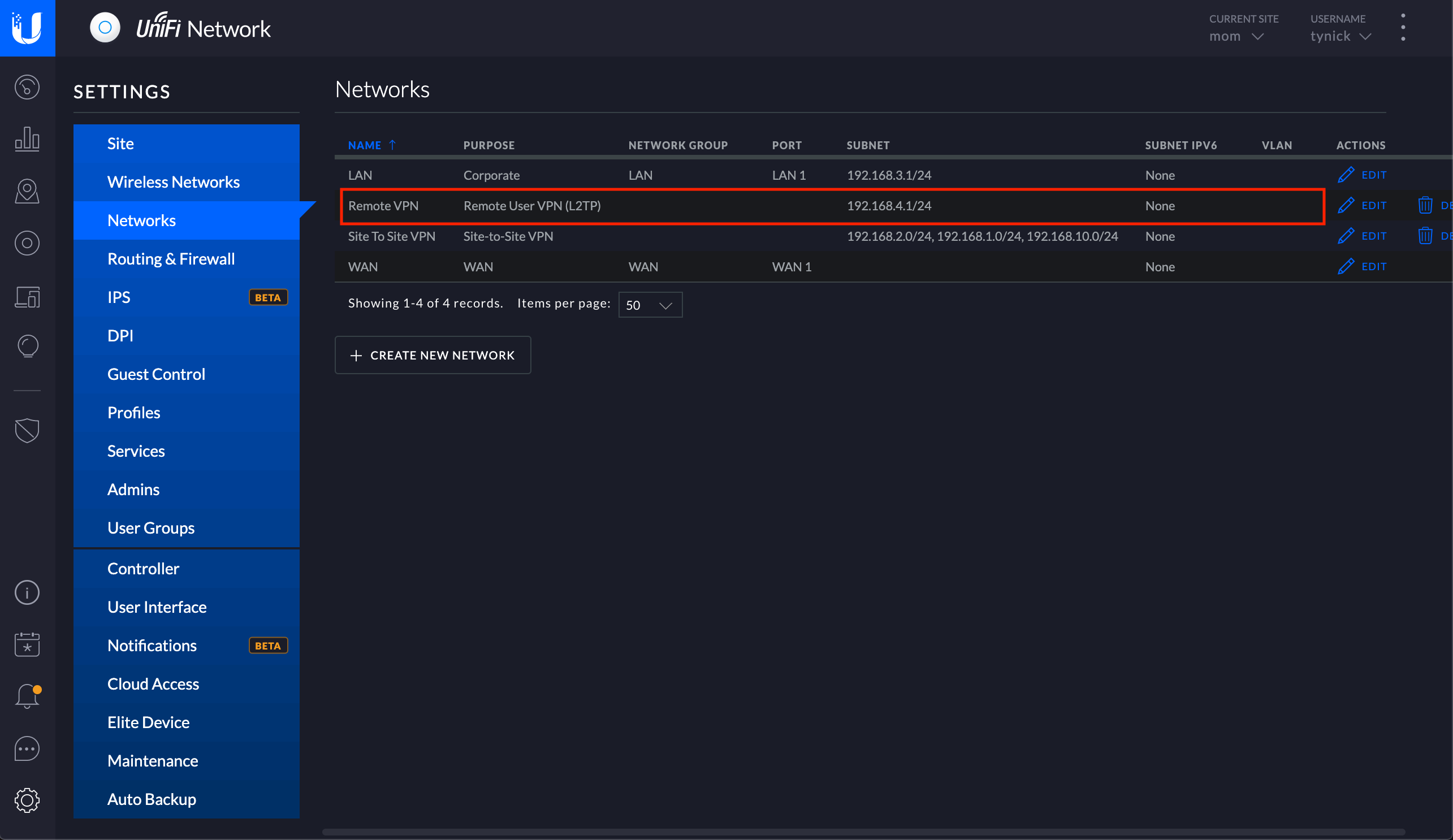 You should see our new Remote VPN network.
Your L2TP VPN is now up and running!
Pretty much every operating system has a built in way to connect to a L2TP VPN.
Here is a tutorial on how to connect using Mac and iOS.
You will need the following info to connect to your new L2TP VPN…
---
Let me know if you have any questions about this setup on Twitter.
Subscribe to my mailing list below to be notified when I make a new post or follow me on Twitter. I'd really appreciate it.