Raspberry Pi 4 PoE SSD Boot 3D Printed Case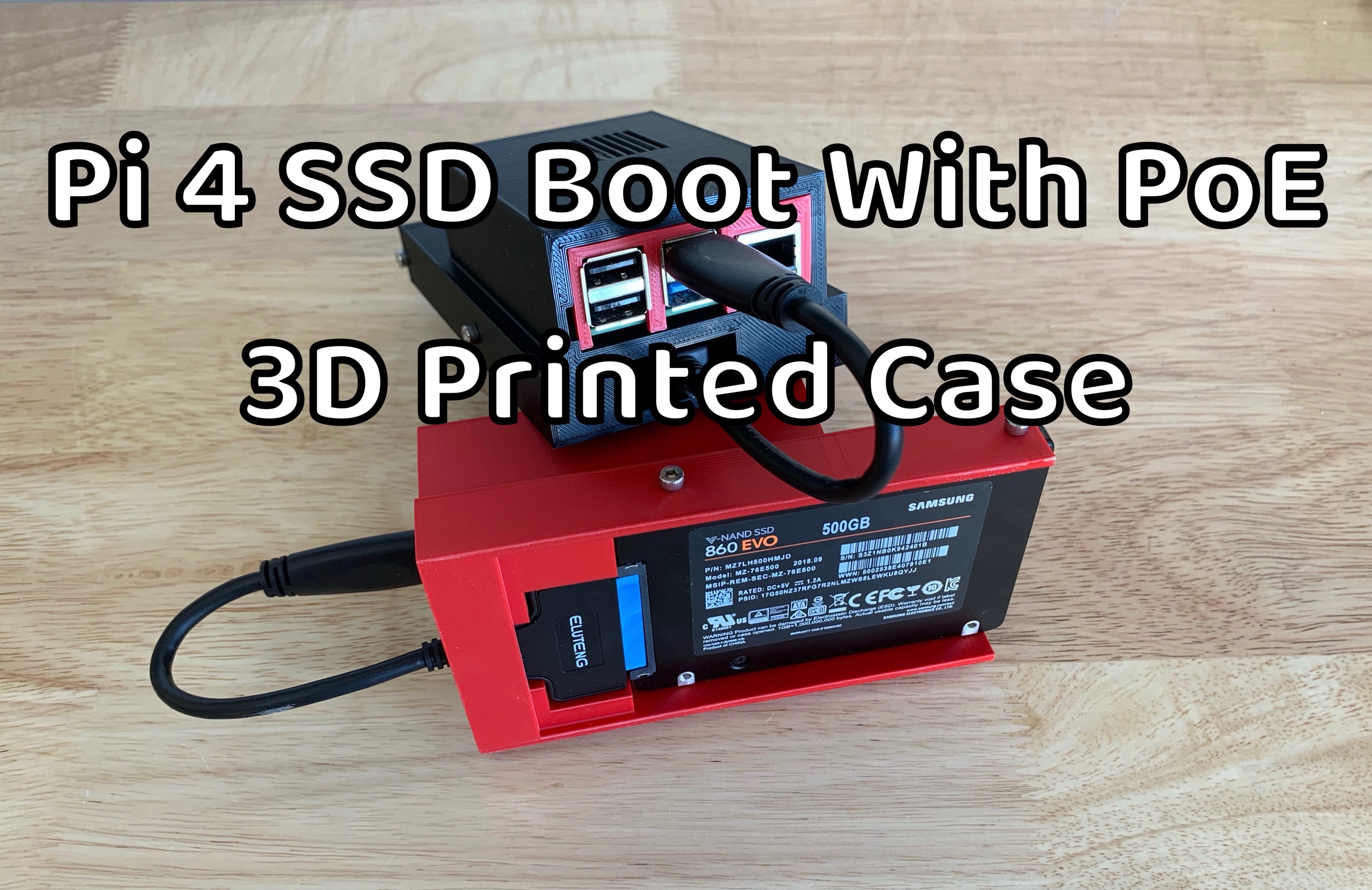 This post contains affiliate links, which means I earn money from purchases. This never affects the price that you pay but helps with costs to keep the site up and running.
---
Raspberry Pi 4 3D Printed Case For PoE Hat and SSD Boot
When the Raspberry Pi 4 was released in 2019, it changed 3 big things that have been keeping it from becoming a real desktop or at home server replacement.
The two most significant changes they introduced were Gigabit Ethernet and more RAM (up to 8GB now!).
Another addition to the Pi 4 was 2 USB 3.0 ports. The issue was that it didn't yet have the ability to boot from USB like the previous models.
Fast forward a year later and the Raspberry Pi 4 has gained the ability to boot from USB rather than the SD card. This is a pretty big deal.
In my opinion, the SD card as a boot drive was the last component that kept the Raspberry Pi 4 from being a "real" competitor to budget PC or a homelab server.
It just wasn't reliable enough for most people without taking extra precautions like a battery backup or configuration management. One power outage while writing data and there was a pretty high chance that you'd be reinstalling Raspbian manually.
Now that we don't have to worry about that anymore, I'd call it "production ready" for any homelab. The Pi has come a long way in terms of horsepower and they are rock solid as far as reliability goes. I can tinker with my Raspberry Pi 4 knowing that if something breaks, it's most likely because of something dumb I did rather than a part failing.
I also recently bought a 3D printer. After mooching off of other people's designs for a while, I got bored and decided to play with Fusion 360. This is my first real 3D modeling project so go easy on me!
My goal was to design an all in 1 unit so I could easily "deploy" a server in my house. If you've read any of my other homelab posts, you might know that I wired my entire house with Cat6. Each of those network drops terminates to a patch panel that then runs to a PoE switch. I definitely wanted this to have PoE so I can just plug it into any port in my house and have power.
I wanted it to look fairly clean when operating. Im tired of all the Frankenstein looking enclosures with a rat's nest of wires spilling all over the place. I know, I know. I've done it too. I just wanted to design something that looked more "complete".
It doesn't look like a consumer ready product but I spent quite a bit of time and filament getting this thing just how I wanted. Hopefully some other Raspberry Pi enthusiasts have 3D printers and can make use of it.
Here is the result…
---
Parts List
These are the parts I personally used to build this.
| Part | Description |
| --- | --- |
| Raspberry Pi 4 | I used a 4GB and 8GB Pi for this project. Any Raspberry Pi 4B will work though. |
| Raspberry Pi PoE HAT | This case was designed to work with a Pi 4 that is wearing an Official Raspberry Pi Poe Hat. |
| Samsung 860 EVO 500GB | This is my personal choice for SSDs but if you have an SSD laying around it will most likely fit. Otherwise you can get one of these 120GB SSDs for almost as cheap as an SD card. It's a no-brainer to me. |
| ELUTENG USB3 SATA Adapter | The case was designed for this specific adapter. It fits perfectly with very little wiggle room. You need this one if you are printing this file. |
| M3 Screws | I bought this 500 piece set shortly after I bought my 3D printer just because I knew that it would come in handy. You really only need 4 M3x6 or M3x8 screws. |
---
Pictures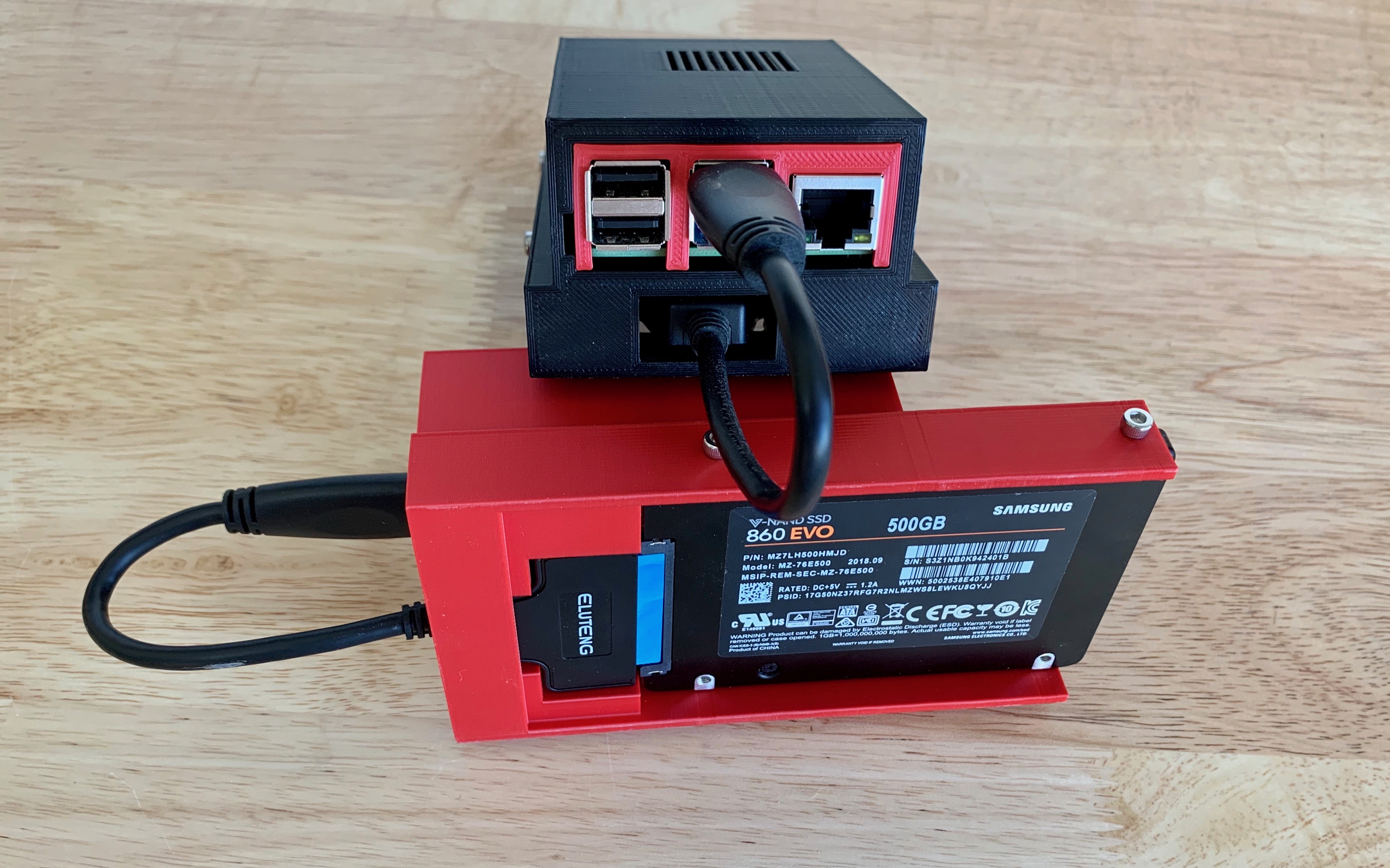 The underside was left open to allow the USB adapter to slide in.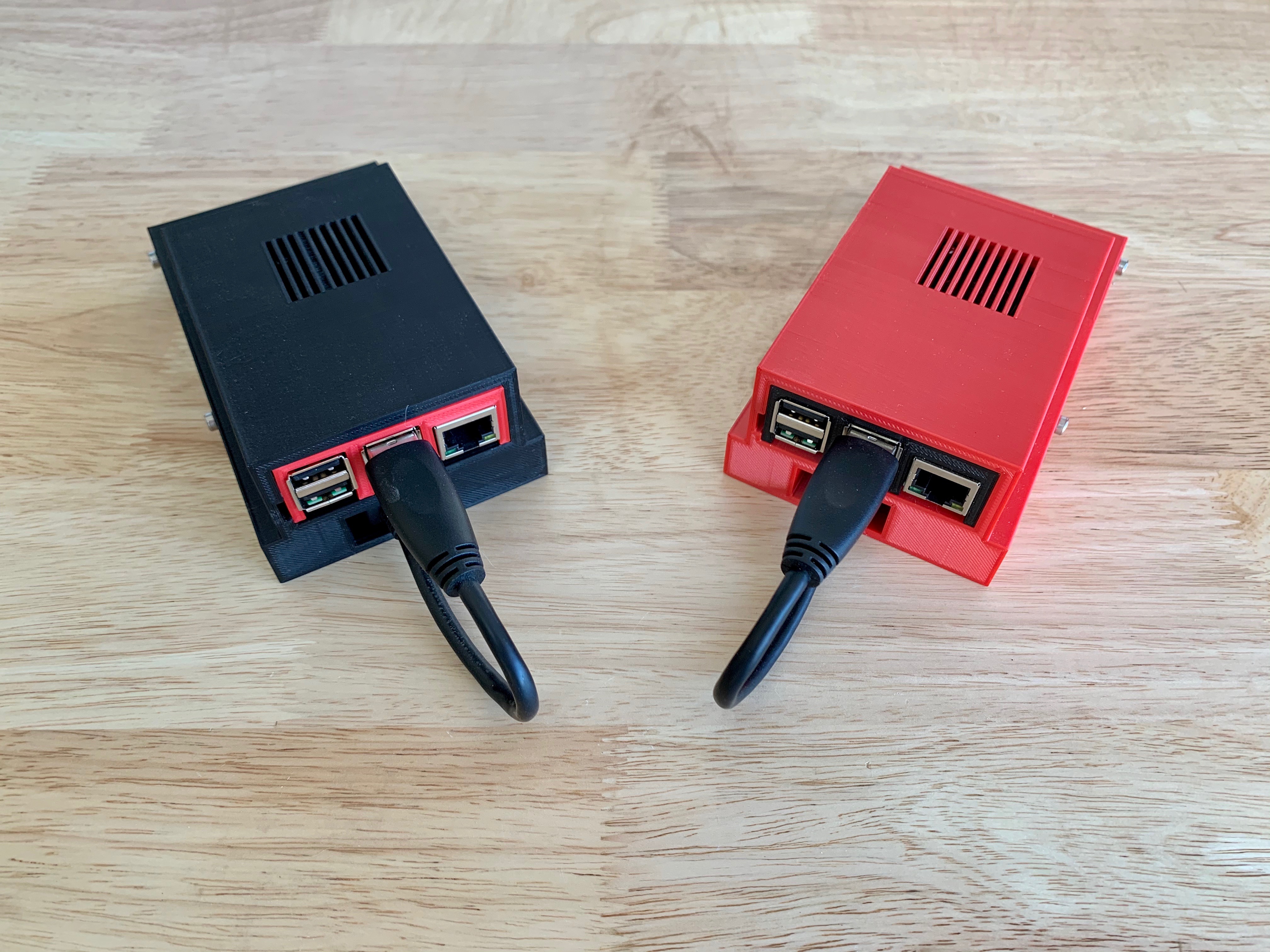 It might look cool to do a print with translucent PLA.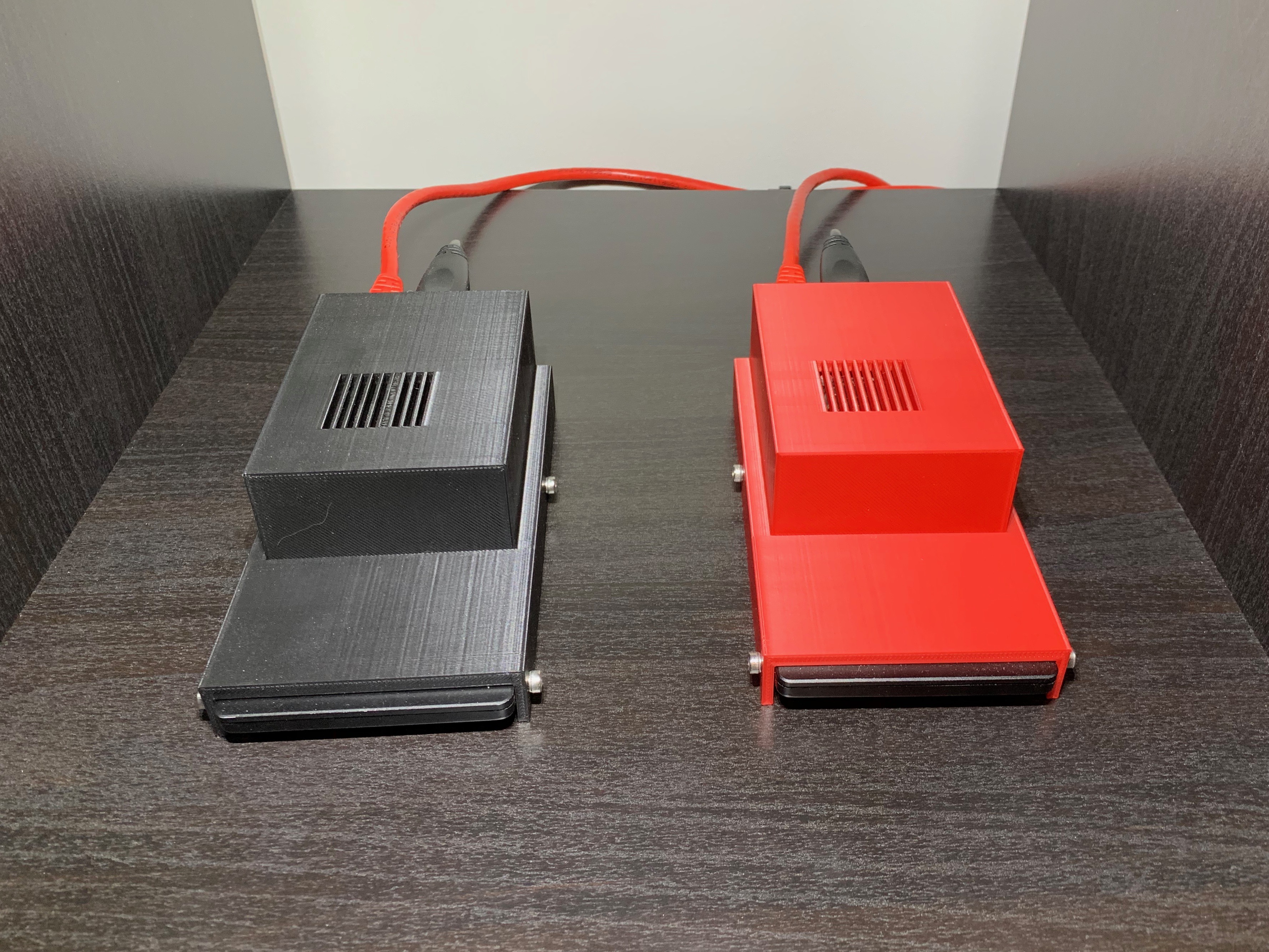 Just add ethernet and you have a reliable headless server for your home.
---
Files
The files to print the Raspberry Pi 4 case for PoE and SSD can be found on GitHub. Any revisions or alternates will also be committed to this repo. Enjoy!
https://github.com/tynick/rpi4-ssd-server-case
---
FAQ
Literally no one in the world has asked me these "Frequently Asked Questions" yet. I'm Just guessing.
---
| Question | Answer |
| --- | --- |
| What Kind of 3D printer did you buy? | I purchased a SainSmart x Creality Ender3 Pro. It's been so much more reliable than the Tevo Tornado I previously owned and gave up on. |
| What brands of filament did you use? | I've had really good luck with this Hatchbox and Monoprice PLA Plus+ filament. |
| OMG! My grandpa's uncle told me that the Pi 4 gets too hot? Did your house burn down yet? | No, It's fine. The Raspberry Pi 4 gets hotter than previous models but it handles it just fine. The case is not completely sealed where the ports are and there are vents for the PoE fan to move air out. |
| How hot does it actually get? | It hangs out around 42-45ºC at idle. I pegged all 4 CPU cores for 15 minutes and couldn't manage to get it above 65ºC. It hovered between 62-64ºC |
| Why did you host your 3D modeling files on Github instead of Thingiverse?? | Github supports .stl files just fine. It is also more reliable and much faster than Thingiverse. |
| Will this work with the bootleg PoE hat on Amazon? | I really don't know. It was designed to work with the Official PoE Hat |
| Will this work with a Raspberry Pi 3B+? | It might if that faceplate were different. You'd be losing out on some major speeds with USB 2.0 though. |
| Can you design me a version without PoE and openings for the other ports? | I don't have much free time so that's probably not going to happen but who knows. Maybe if I see enough interest. |
| Will you print one and ship it to me? | I guess, but I'm going to charge you like $50 to print and ship it in the US though. I'm sorry. I have way too many other projects and it's just not worth my time otherwise. |
| This is the greatest creation I've ever seen in my life. Is there a way I can support your projects and your site monetarily? | If you'd like you can throw me some money on PayPal or Buy Me A Coffee (Whiskey). |
---
Please message me on Twitter if you have any questions or comments.
---
---